That's all there is.
Jansen – Dubois
Rohde – Arndt
Gabrio – Sonnabend
Beranek – Lockwood
Dveris – McGovern
Lawrence – Lichty
McLaughlin – McLellan
Boomer – Stanek
Lots of close action down to the wire.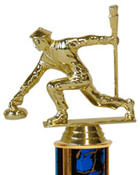 Congratulations to Sonnabend for winning another year.
Let me know if there are any make up games you have to report. I know there are some results missing from the sheets, so if you want a more complete picture of the season, send in whatever you have.
Great curling.